A Day Tracing our Broedel Roots
On Feb 19, 2011, Peggy and I took an afternoon to trace out my Broedel roots near the small town of Harriettsville, Ohio, in Noble County, just east of Lower Salem. This area was settled by many German families prior to 1870. Times were apparently difficult in Germany and many came to America in search of a better life. There were large German communities in Washington County, Ohio, as well as in the cities of Cincinnati and Columbus. We recently received a call from Ruth Weber, 84, of Lewisville, Ohio who sent us several momentos of the Broedel family she had kept and gave us a little history that we did not know. Ruth is a descendant of the Kilzer family and owner of the family farm on Kilzer Rd in the hills above Harriettsville. The Kilzer family was apparently friends of the Stophel (or Stoffel) family when they all lived in Germany. Letters indicate they may have lived in Dimbach, Bavaria.

A young Margaret Stoffel came to America to escape the advances of a much older man in Germany and stayed with the Henry Kilzer family. However, the man, Michael Broedel, apparently pursued his love to America, marrying Margaret, and raising a family of 5 children on a creek bottom farm west of Harriettsville. The Kilzer family and the Broedel family remained close for many years. My mother, Margaret K. Broedel Dugan (b. 1918 - d. 1998), apparently kept Ruth informed about the family for many years.

With the information Ruth provided, we took advantage of being in Ohio for a long President's Day break to track down the places inhabited by the first generation of our Broedels in America.

Leaving Harriettsville, we traveled up a long, winding hill, past Kilzer road and onto County Rd 252 to the Zion Cemetery. There we found the Kilzer headstones. We made an attempt to find the old Lutheran church, but did not drive far enough down the road. After turning back, we drove up Kilzer Rd and found Ruth's granddaughter at the 1861 farmhouse where Margaret Stoffel would have stayed when she came. It is maintained, but largely used for family events and deer hunting. I was given a brief tour of the house. Then we went back into Harrietsville looking for information on the old Lutheran church, but the folks we asked didn't know where it was. Finally, we read the map Ruth sent us more closely and noticed that we needed to go farther down Co. Rd 252. Then back up the hill we went, amazed at how anyone would have attempted that journey 100+ years ago. Even our good-running Honda Odyssey was straining at the task. We found the old church and I quickly located the gravesites of Michael and Margaret Broedel.

Up to this point in the journey, I had no recollection of ever being there although I recall taking a trip with my mother in the direction of Noble county when I was quite young. But as we approached the old church, I had a slight flash of memory. The way the approach from the road to the church is constructed triggered a vague memory of people (pallbearers?) dressed up and walking along the approach while we parked our car below the church. Ruth suggested that my mother might have taken me to the funeral of a Kilzer relative, since she would have been a frequent visitor in the Kilzer home. However, I will admit it could be that I was remembering another church that was built similarly.

After this, we sought out the Broedel homestead near the junction of HWY 145 and 564 just west of Harriettsville. The property is now owned by Dan Schramm, a vet in Devola. There does not appear to be a maintained driveway so we just took some photos from the other side of the creek. The buildings are all set high, probably to keep them above flood stage. There is a nice creek bottom for raising crops, although it doesn't look large enough to sustain a family -- at least not in today's economy. The hills are now wooded, but perhaps some were originally cleared for pasture land for the animals.

Roger Dugan
Thumbnail images only. Contact me if you want a higher resolution image.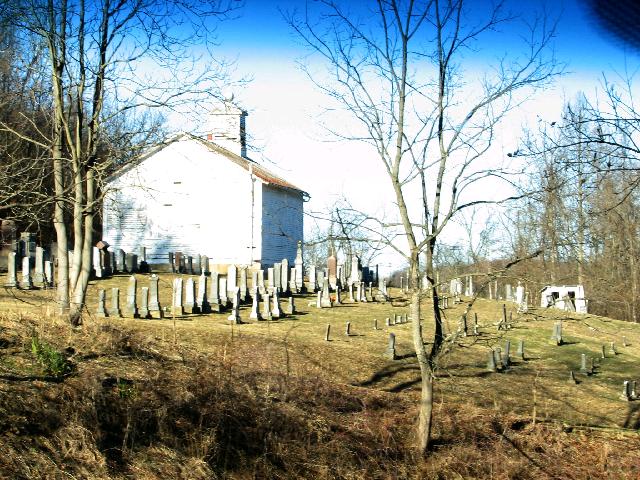 View of old Zion Lutheran church near Harriettsville, OH approaching from the west. From this point, horses would have had a level path from the road to the church.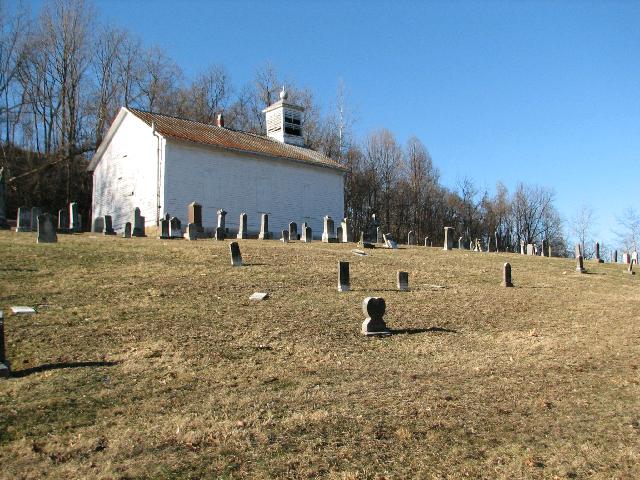 View of old Lutheran church and cemetery near Harriettsville, OH. This is on County Rd 252 on the hlls above Harriettsville. It is near the Kilzer farm, but perhaps 5 miles from where Michael and Margaret Broedel lived on the creek west of Harriettsville. The ride to church meant climbing a steep hill and would have been quite a challenge for a horse and buggy. They would have been tough people to have made the journey weekly.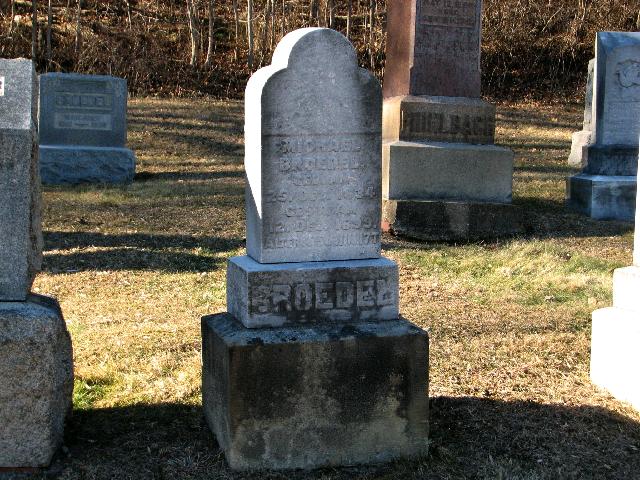 Michael Broedel headstone, Old Lutheran church near Harriettsville, OH. Tombstone says born 25 Dec 1834 and died aged 55, 11 months, 17 days, in 1899. Obviously, something is wrong. Later, we found out that he was actually born in 1843. The numbers got transposed somewhere along the way to the tombstone. According to Ruth, he was said to be a very stern man, probably because of the harsh life for people in Germany.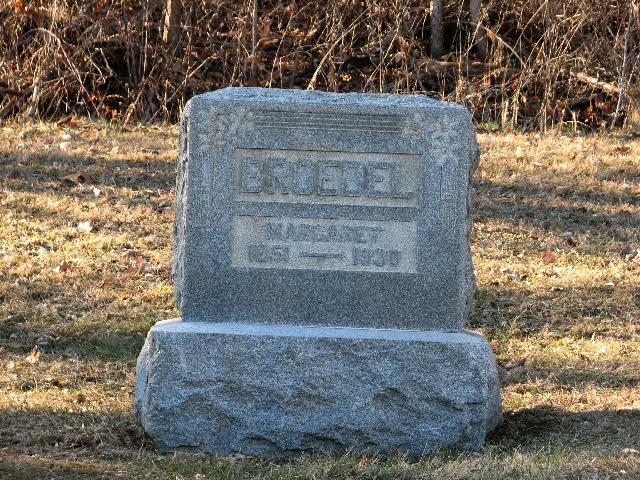 Margaret Stoffel Broedel headstone at old Lutheran church near Harriettsville, OH.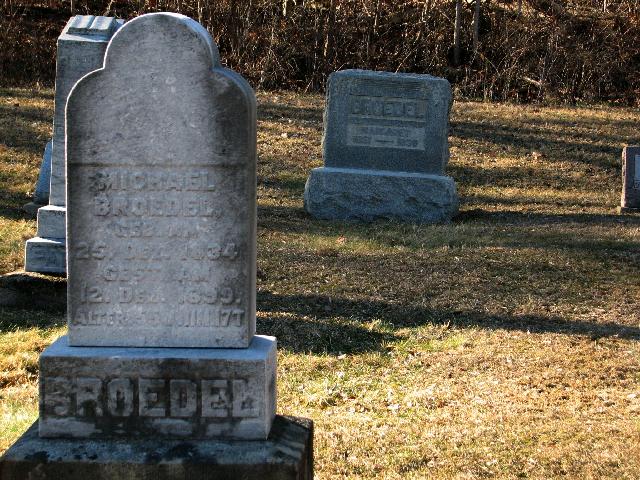 Michael and Margaret Broedel gravesites at old Lutheran church near Harriettsville, OH. Notice that they were not buried together. Possibly because they died 30 years apart. Margaret is buried 3 rows to the rear.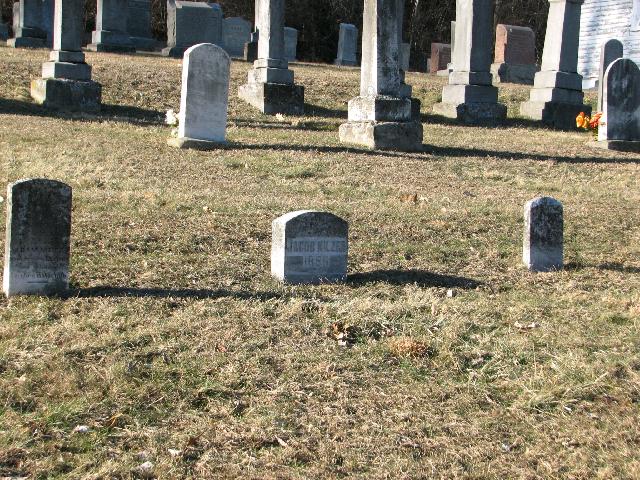 Jacob Kilzer and other family members. Many of the inscriptions on the tombstones in this cemetery are in German.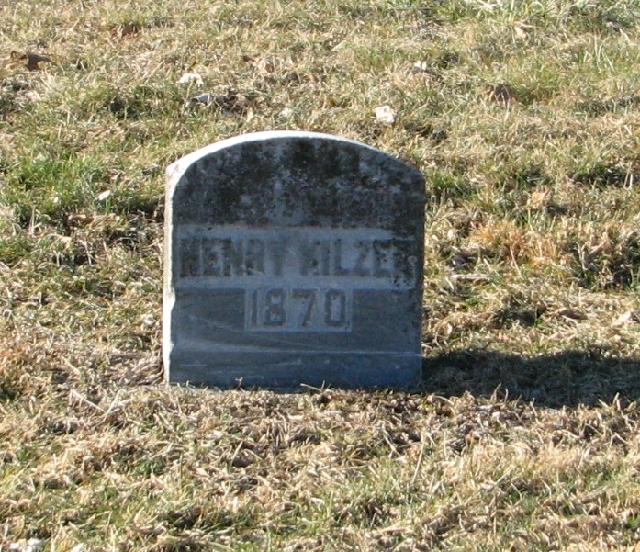 A Henry Kilzer. This Henry Kilzer died about the time that young Margaret Stoffel came to live with the Henry Kilzer family. So this must have been an older generation Henry or another family because Ruth's grandfather, Edward (father Henry), was born in 1873. There were lots of German surnames in this cemetery as one might expect.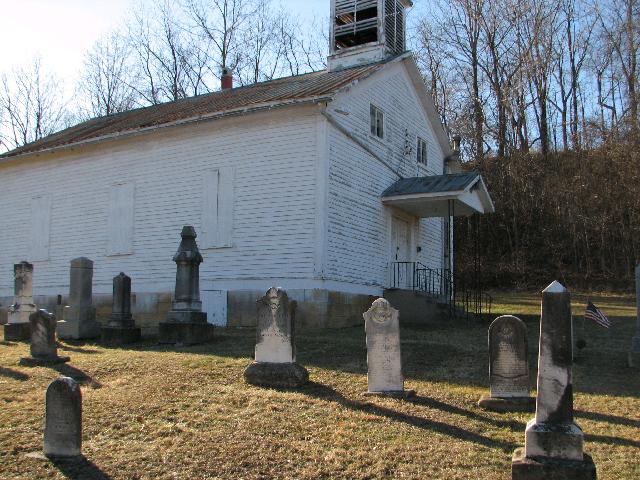 Another view of the old Lutheran Church near Harriettsville, OH. Roof seems to be intact and it appears some attempt has been made in modern times to maintain the church (note railing on the porch). However, the electricity has been cut off unless it comes in underground and there were very large hornet's nests. Maintenace appears to be diminishing with time.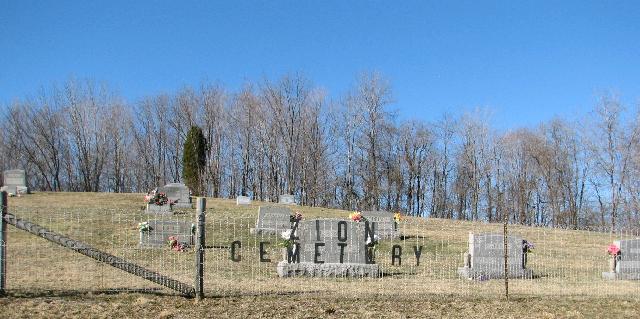 The "New" Zion Lutheran cemetery. Ruth Weber's mother and grandparents are buried here.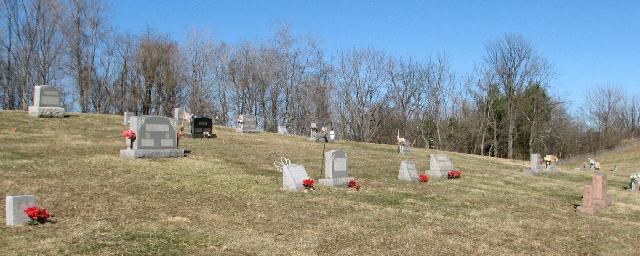 View of Zion Cemetery about 1 mile east of the Old Lutheran church on county road 252.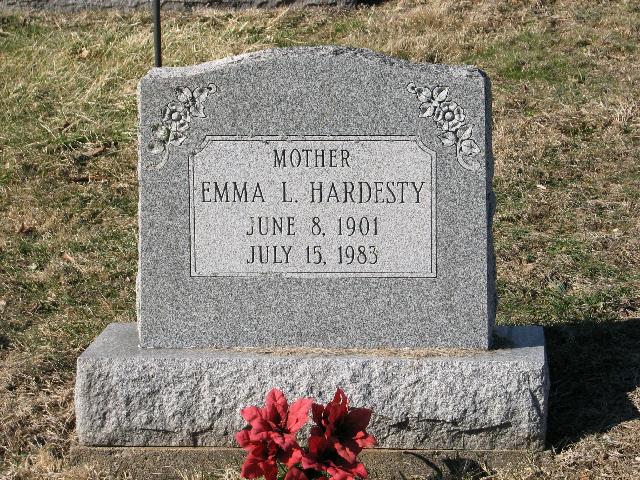 Zion Cemetery. Emma L Kilzer Hardesty cared for elderly people throughout much of her life. In 1930, she cared for Elizabeth "Lizzie" Broedel, daughter of Michael and Margaret Broedel, after she suffered a stroke. Then she provided care for the 79-yr old Margaret Broedel in her final days. She died 6 weeks after Lizzie. Ruth Weber recalls talking to Margaret Broedel as she lay in her bed. The care took place in the Broedel family home. My mother had told me that Lizzie had been helping John with his farm and children (including my mother, Margaret Katharine Broedel) when she died. Then John's other sister, Emma, came to live with John and the children on Meigs Creek, Bristol Twp, Morgan County, Ohio. Emma died in 1939 while carrying food to the threshers. Emma and Lizzie are buried in Meigs Cemetery.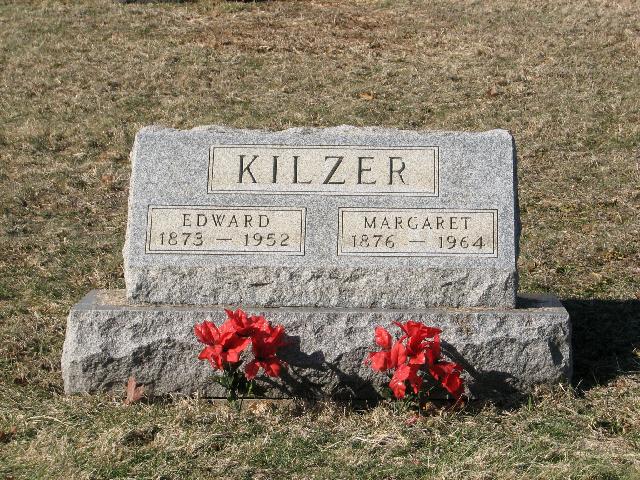 Parents of Emma Hardesty, grandparents of Ruth Weber. The Kilzer home was a gathering place for the family. The John Broedel family used to visit 2-3 times per year. That would have included John, Elmer, Howard, Margaret, Ralph, and Eleanor. John's wife, Sarah Eleanor Whitehouse, had died in 1924 after giving birth to Eleanor. John's sisters, Emma and Lizzie, helped John raise the children until he remarried -- to Olive Carmichael.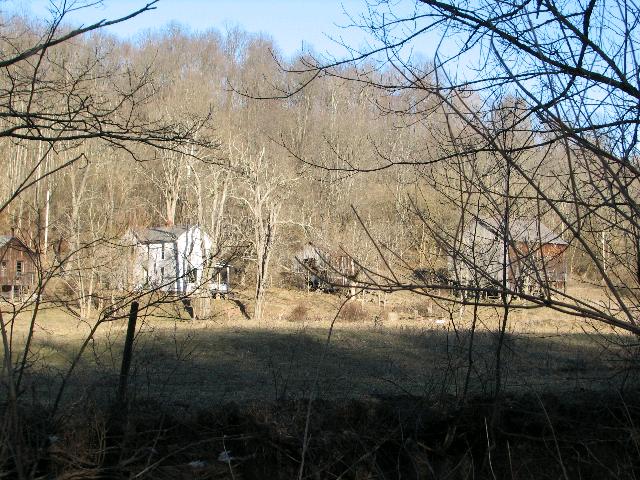 View of Michael Broedel farm near the junction of US 145 and US 564 in Harrietsville, OH.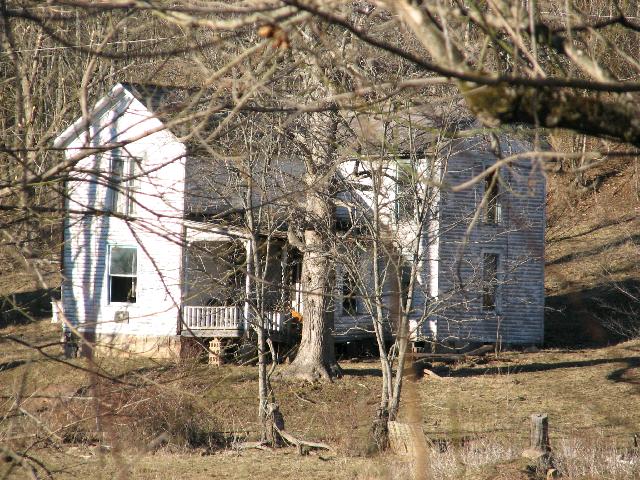 Farmhouse at Michael Broedel farm, Harriettsville, OH. (2011)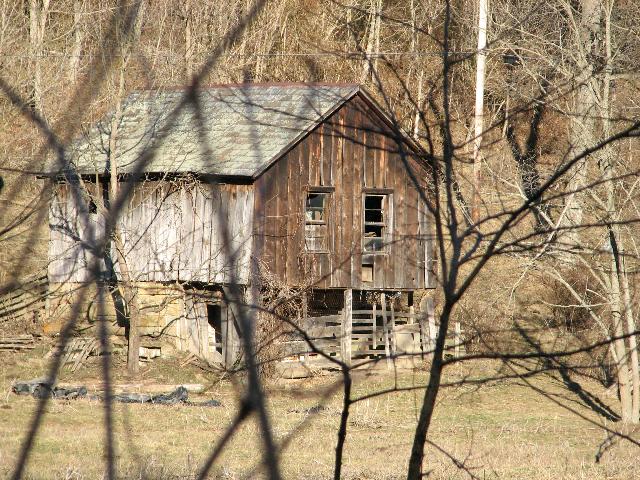 Out building to the left of the farmhouse. Built up high probably to keep it out of the flood water.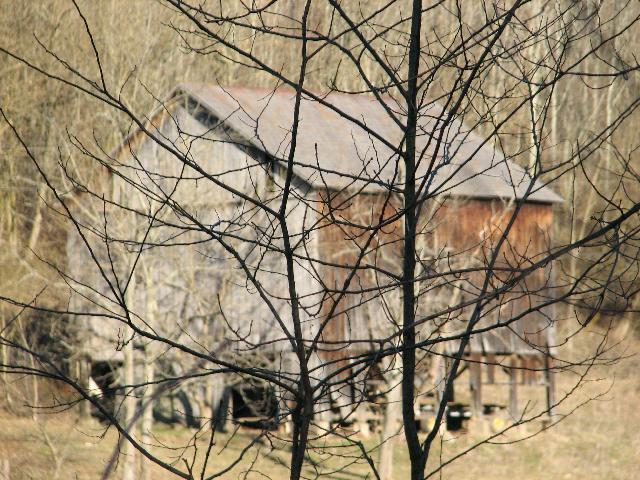 Barn at Michael Broedel farm.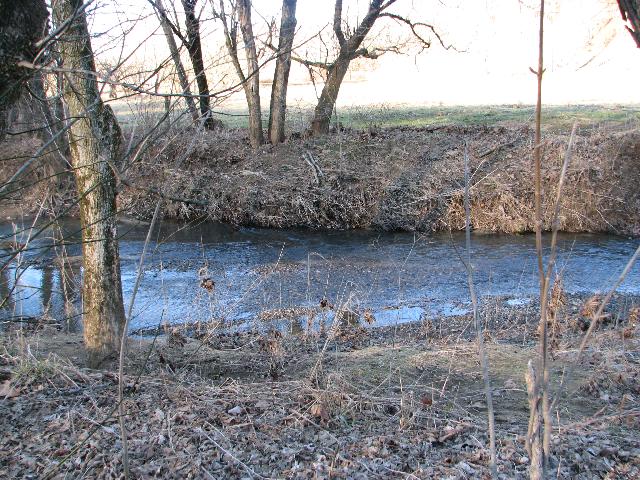 Creek in front of the Michael Broedel house.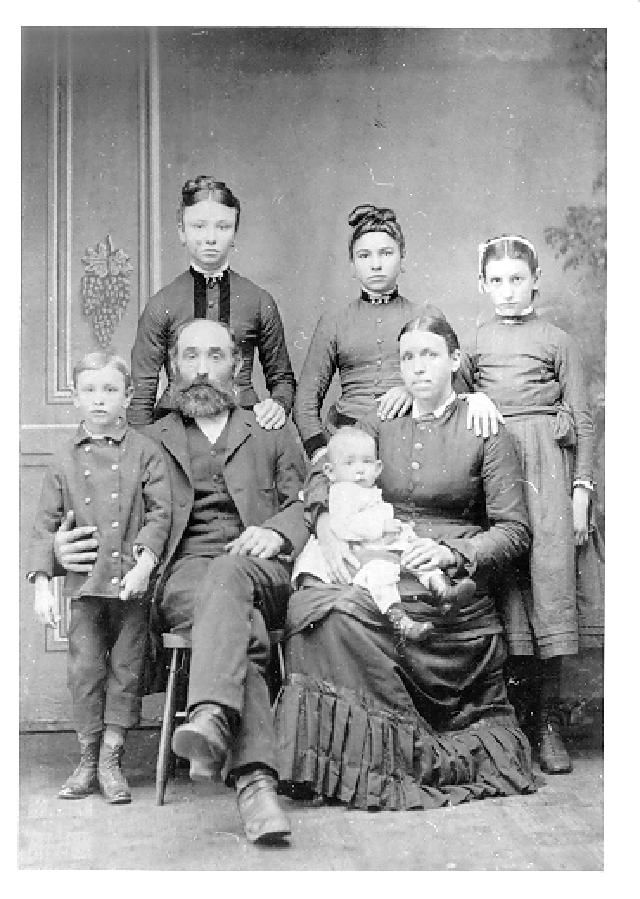 Michael Broedel Family about 1885. Front: John, Michael, George, Margaret. Back:Emma, Elizabeth (Lizzie), and Louise.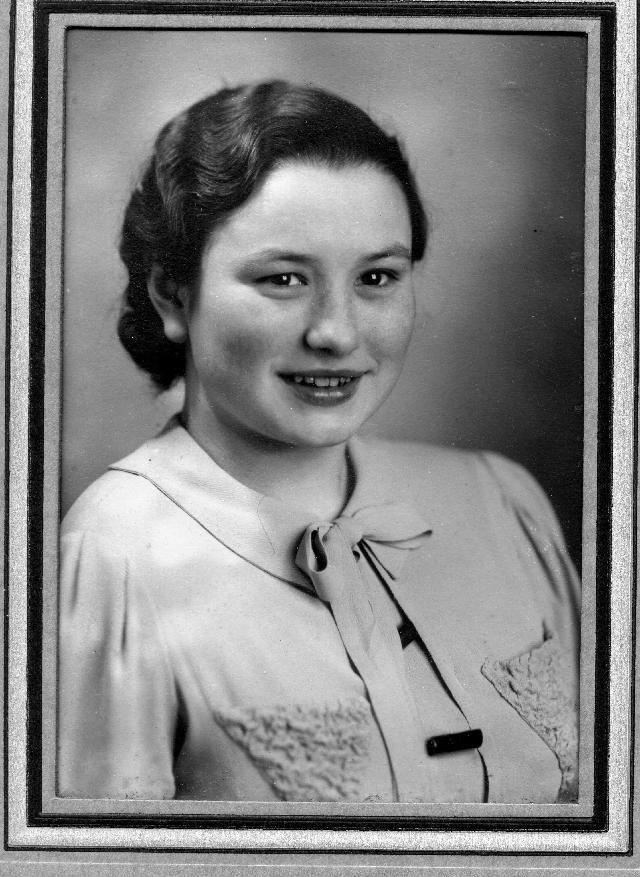 This is a photo that Ruth sent us of mom that I had not seen before. Could be a senior picture.